Perrysburg Schools Foundation
Guest Speaker
Contact Us
Contact us or give us a call to discover how you can help.
Perrysburg Schools Foundation Hosts Holocaust Survivor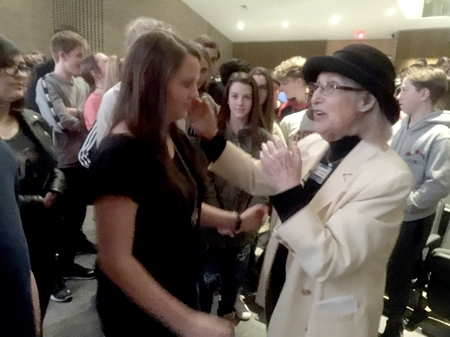 Ms. Paula Marks-Bolton, a Holocaust survivor of the Ozarkow and Lodz ghettos and Auschwitz, Ravensbruck, Muhlhausen and Bergen-Belsen concentration camps, spent time with 8th graders at Perrysburg Jr. High this past spring. The students heard from her during the day as part of their study of Nazi Germany and the Holocaust. She also shared her experiences of growing up Jewish in Poland in the late 1920s until the Germans marched into her hometown of Ozarkow in 1939 when she was 13 years old during her community presentation in the evening.
We want to thank the teachers at Perrysburg Junior High School for making sure this important lesson is passed onto our students. We are proud to be a small part of this program.
Through the generous gifts of our donors the Perrysburg Schools Foundation is able to bring speaker like Ms. Marks-Bolton to meet with our students and teachers.