Perrysburg Schools Foundation
Foundation Scholarships
Contact Us
Contact us or give us a call to discover how you can help.
The Perrysburg Schools Foundation provides annual scholarships and recognition awards to outstanding students, faculty and staff of the district.
Hundreds of thousands of dollars in scholarships have been presented since the group's inception, and student, faculty and alumni awards have been presented annually to those members of the district best exemplify our commitment to scholarship, community service and improving the lives of others.
Current Scholarships
Jaryd Wellstead Gilts Memorial Scholarship
Tyler Benjamin Custer Scholarship
Elizabeth M. Munger Scholarship
Charles L. Collins Scholarship
Burke '01 and Sara Badenhop Scholarship
Mary Jo and Orville F. Schaller Memorial Scholarship
Marjory E. and Herman F. Mizer Memorial Scholarship
Dr. David R. Milne Scholarship
Robert C. and Dorothy JJ. Welch Scholarship
Ralph Protsik '61 Vocal Scholarship
John P. Donahue Memorial Scholarship
Robert William Nooney II Memorial Scholarship
Dr. Thomas E. Downs Memorial Scholarship
Elizabeth 'Betsy' Traber Memorial Scholarship
Mercy Health Scholarship for Health Science
Perrysburg Schools Foundation Scholarship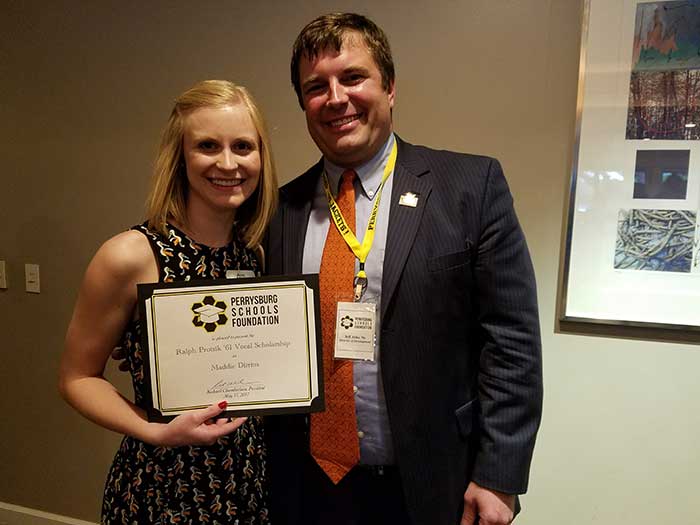 2020/2021 Perrysburg Staff Recognition Awards
George C. Munger and Elizabeth M. Munger Outstanding Educator Award
Lynne Barefoot
2020/2021 Outstanding Educator Awards (by school)
Perrysburg High School
Thom Ziems
Perrysburg Junior High School
Jeff Quinn
Hull Prairie Intermediate
Christina Schoen
Toth Elementary School
Karen Bade
Fort Meigs Elementary School
Emily Bartholomew White '10
Woodland Elementary School
Sarah Mercer
Frank Elementary School
Chrissy Nackowicz
Perrysburg Preschool
Katie Siebenaler
Outstanding District Support Staff Award
Doug Russ