Perrysburg Classroom Grants Program
Please contact Jeff Abke '96, Director of Development if you would like to know about supporting specific grants.
jabke@perrsyburgschools.net
Contact Us
Contact us or give us a call to discover how you can help.
The Classroom Grants program was the first project instituted by the Foundation Board.
These grants were designed to enable teachers at all grade levels to bring innovative educational ideas, techniques and resources to the classroom that were not funded by tax dollars. Since 1985, the Foundation has awarded hundreds of thousands of dollars in grant funding for educational programs in the district, impacting every student in the system and providing opportunities for educational enrichment both inside and out of the classroom.
Here are some recent examples of the dozens of grants awarded each year.
Articulate 360/Storyline
PHS Honor Chemistry
Mr. Charles Brigode
This past fall, Charles Brigode, Physical Science and Honors Chemistry Teacher at Perrysburg High School, was awarded a Perrysburg Schools Foundation Grant to pay for a license to create online modules for all Honors Chemistry classes using Articulate 360 and Articulate Storyline software. The eLearningmodules are now part of the required coursework for the Honors Chemistry classes.
The modules take approximately 3-5 hours total for students to complete and are intended to prepare students for further chemistry courses. They cover the historical models of the atom, the arrangements of electrons around the nucleus and conclude with molecular geometry.
"The goal is for all students to walk away from Perrysburg High School with a deep understanding as well as a broad understanding of chemistry," explained Mr. Brigode.
While the modules do utilize videos, they are also very interactive. The students will be challenged to form conclusions from experimental evidence, manipulate variables to observe the results and complete interactive questions. The lessons follow a model-based learning philosophy to mirror the instruction that they receive in class.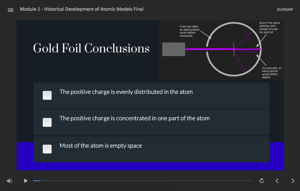 Left Photo
The modules follow principles of model-based learning in which the students construct the knowledge as much as possible. On this slide, the students must select the appropriate conclusions based on experimental results.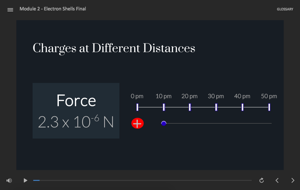 Center Photo
This slide shows an interactive feature in which the students may click and drag the blue electron to change the distance between the two charges. The amount of force between them charges as a result.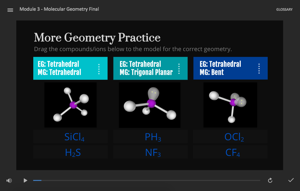 Right Photo
The Articulate Software allows for interactive assessments as well. Students match the compound to the correct image in this case.
Architecture Blocks Grant
Toth Elementary Art Class
Mrs. Amanda Lake Drummond '00
Through a gift from Mercy Health Mrs. Drummond was awarded a grant to purchase architecture blocks for her art classroom at Toth. These are now one of the studios that she offers in her classroom. It is part of the teaching pedagogy that Mrs. Drummond has adopted called Teaching for Artistic Behavior (TAB). This allows for an open concept with student-led choice during their time in art each week. Using TAB has expanded the students' interest in art, but also allowed for them to understand better how art, in all of its forms, can be applied to other subjects. Here is a recent video of these blocks in action.
Senior English Reading Choice Grant
PHS Senior English Classrooms
Funded by the Class of 1967
In recent years the Senior English classes at Perrysburg High School have moved to a student-choice/student-taught curriculum or a Reading/Writing Workshop. The approach is that students are encouraged to choose which books they would LIKE to read throughout the year. The students are then required to write about what they are reading and share that with their classmates. The faculty is finding that students are reading more, and comprehending much more, about their chosen books. They are also encouraging each other to read different types of books than they were before. One classroom, which included the shelving and books, was funded through the district and a second classroom was funded through a grant provided by the Class of 1967, in honor of their 50th reunion. The program has been such a success that PSF is in the process of converting a third classroom for this style of teaching English. Here is a video of Ms. Deb Drew talking about what she has seen by teaching in this style.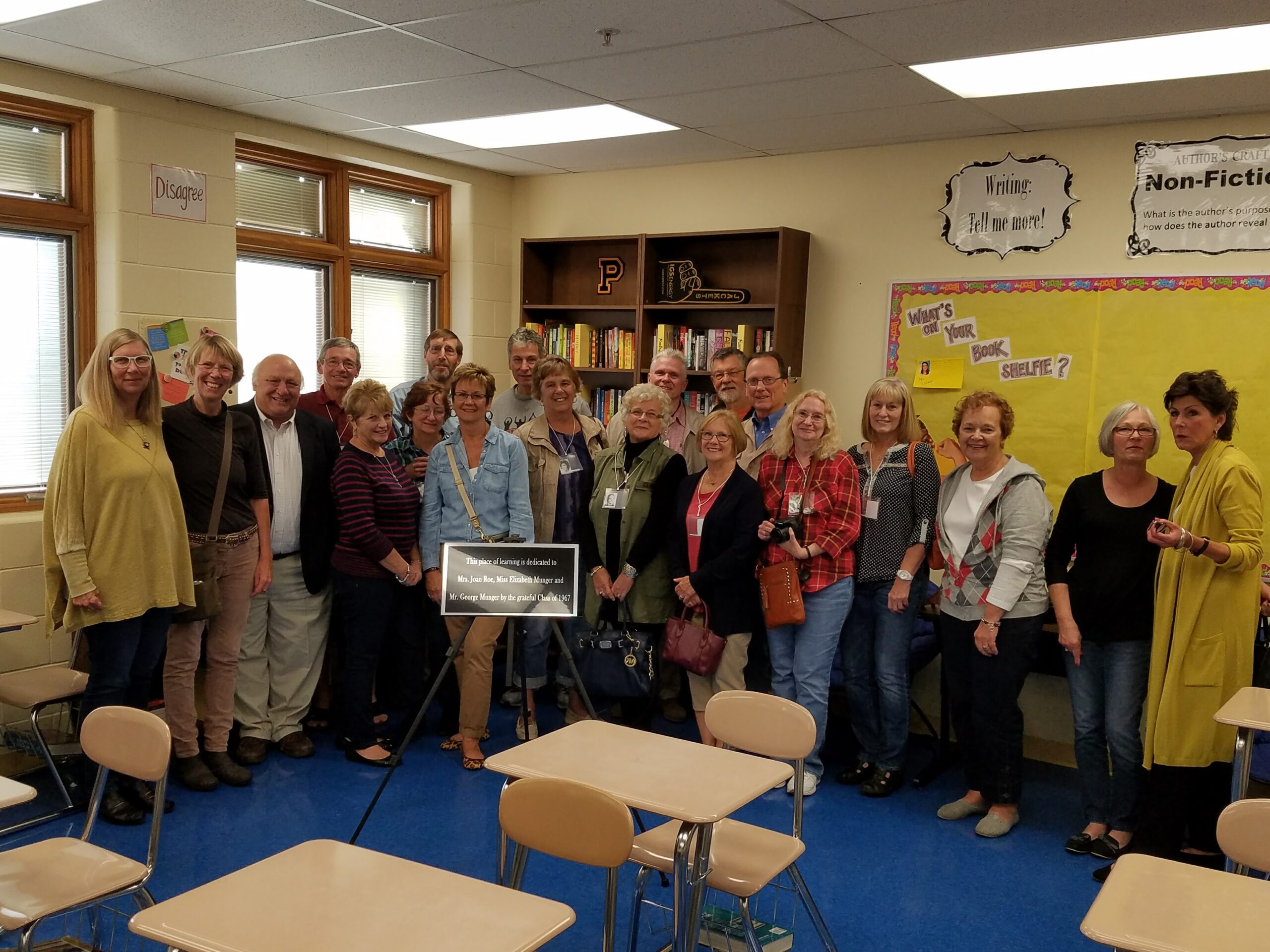 Jim Gill Visit
Perrysburg Preschool
Award-winning musician and author Jim Gill recently visited the teachers at Perrysburg Preschool for a half-day training session focused on inclusion and music play for all young children. Play is the context where children begin to develop abilities essential to school success, such as self-regulation. With the presentation of music play activities as a starting point, participants deepened their understanding of the opportunities that play activities provide for children to develop these abilities. The professional development session included child development research, anecdotes from the presenter's own work with children and families, video footage and group discussion.
The night prior, the preschoolers and their families were invited to concert with Mr. Gill. Over 200 attendees had the chance to meet the musician while dancing, playing and singing along with their classmates and friends.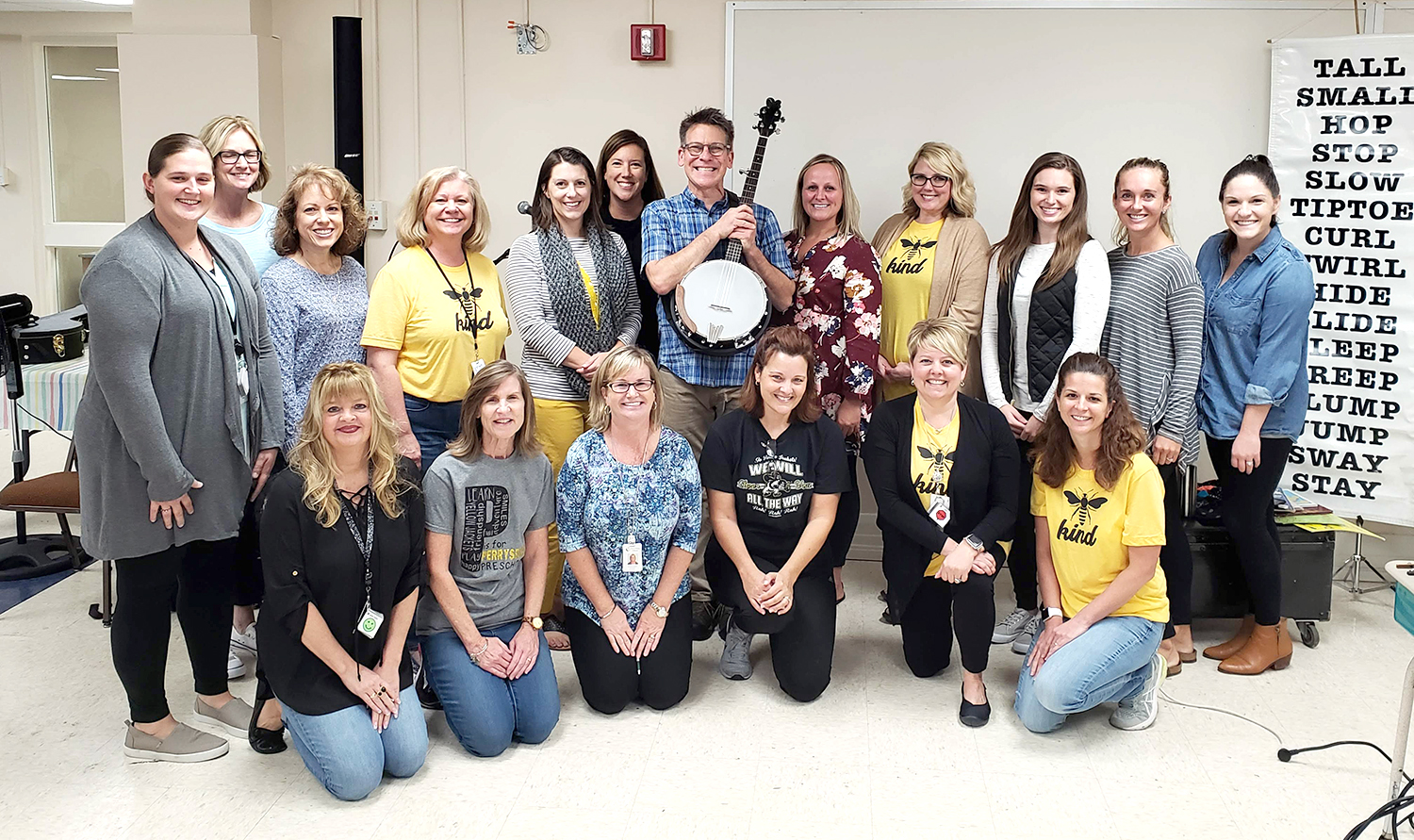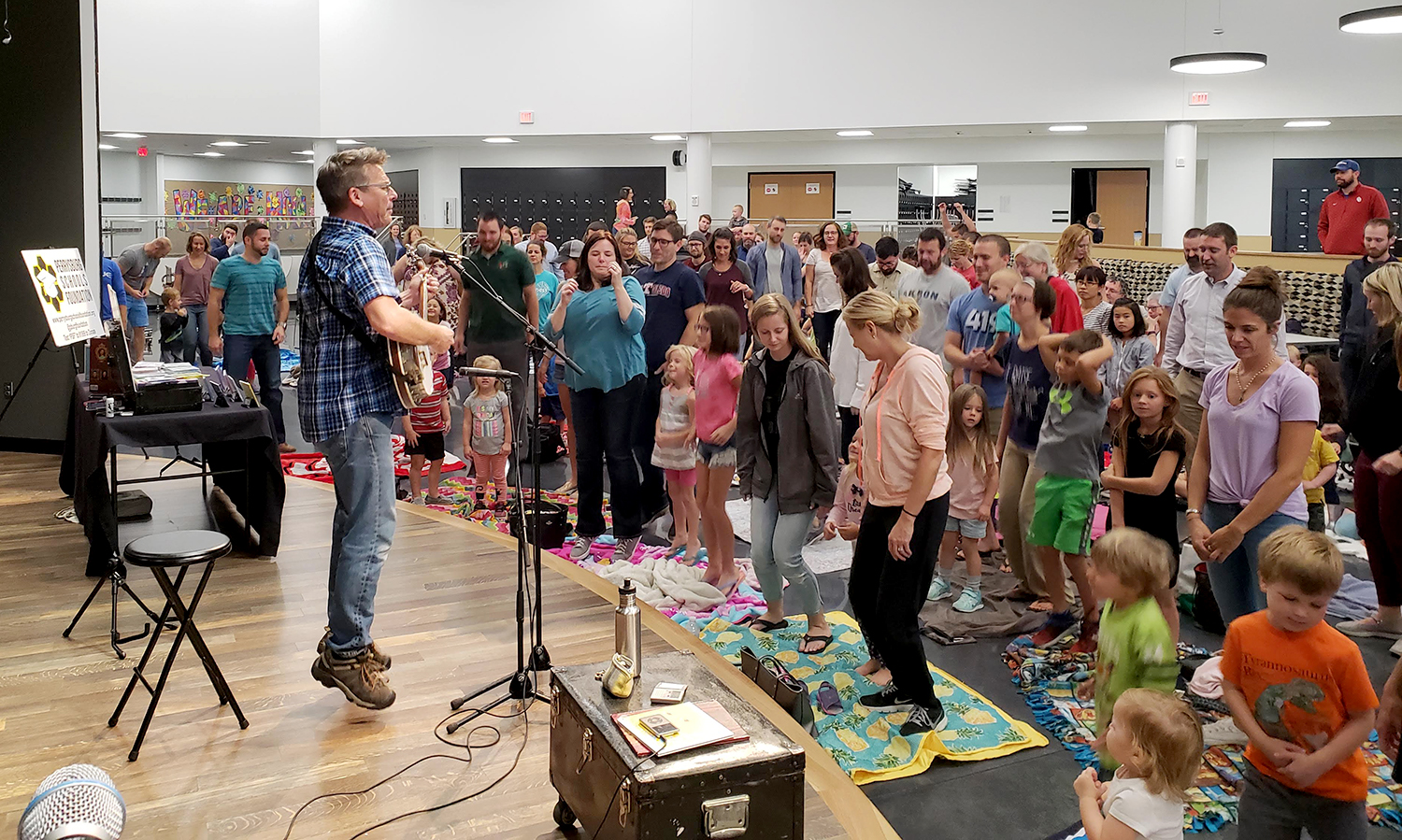 Walk-Up Week
Hull Prairie Intermediate School
Following the events in Parkland, Florida in February of 2018, a group of 6th graders from Hull Prairie Intermediate School approach the PSF about organizing a "Walk-Up Week" at HPI. It was an attempt to address the overall attitude in schools that might make someone feel unsafe at school. They wanted to put on a week of programs, initiatives and challenges for their classmates to be nicer to each other, notice the student who may be sitting by themselves and just genuinely make the day better for everyone. These students took it upon themselves to develop a proposal for funding from PSF for bracelets for each student and staff member saying "I am HPI" and to create a positive atmosphere that week that they knew would continue beyond those 5 days in their school. They reached out to PHS alumnus and MLB Pitcher, Burke Badenhop '01 and Mayor of Perrysburg, Tom Mackin to get them involved with videos that were shown to the entire school. It was a great example of how young people can effect change.