Perrysburg Schools Foundation
Current Programs & News
Contact Us
Contact us or give us a call to discover how you can help.
"College Admissions in a COVID World" virtual panel set for March 30
On Tuesday, March 30, 2021 from 12-1 p.m., Perrysburg Schools Foundation will host a virtual panel of Ohio college admissions representatives to discuss "College Admissions in a COVID World." Colleges that will be represented include: Bowling Green State University, Miami University, The Ohio State University, University of Cincinnati and The University of Toledo. The event will be moderated by Perrysburg High School's Lindsay Czech, Director of College Advising, and Dawn Burks, School Counselor.
COVID-19 has impacted every part of life this past year and the college admissions process is no exception. Join us to hear what colleges saw in their applications in 2020-2021 and what they are expecting for the Class of 2022 and beyond. The presentation is free and open to the public, but registration is required using this link. A recording will also be made available after the event on our PSFTV page.
Please feel free to use this form to submit any questions you would like to see addressed during the panel: https://forms.gle/saHGAdJdmRneDLMD8. Questions will be accepted until Sunday, March 28th.
Mary Cranker '35 Becomes First $1M Donor to PSF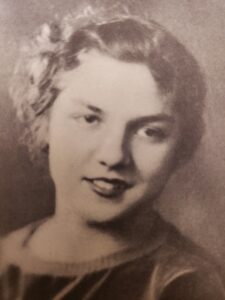 Perrysburg Schools Foundation (PSF) is honored to be the recipient of its largest gift to date from the estate of Ms. Mary Cranker, Perrysburg High School Class of 1935. While the exact size of the gift is still being finalized through the estate, the anticipated gift of more than $1 million will create an endowed fund that will be used for early introduction to the arts for Perrysburg elementary students.
Mary Cranker passed away in October of 2017 and spent her entire 99-year life in Perrysburg. She was an avid supporter of the arts and quite the artist herself. She had a great appreciation for poetry, music and fine arts.
Mary worked at Owens-Illinois as an executive secretary until she retired in 1975. While at Perrysburg High School she was active in student government, the National Honor Society, the Somethin'student newspaper, science club, Latin club and dramatic club.
"While the relationship between Perrysburg Schools and Mary began when she started school back in the early 1920's, we had the chance to introduce Mary to the efforts of the Perrysburg Schools Foundation and the opportunity to support the arts here in Perrysburg a few years ago. It was a pleasure to get to know her and learn about her passion for doing good in our community,"said Jeff Abke, Director of Development for Perrysburg Schools and the Perrysburg Schools Foundation. "It is neat to think about how her generosity will be felt throughout the entire community."
This gift, made in memory of Mary's maternal grandfather, Edwin H. Simmons, will be part of a comprehensive fundraising campaign for the arts at Perrysburg Schools, from preschool through grade 12. It will include gifts made to the arts booster groups, the Perrysburg Schools Foundation and the school district. The goal is to raise $3.5 million in private gifts prior to December 31, 2021, and will be formally launched January 16, 2019 at an event for supporters. Mary's gift brings the total raised to date to nearly $2 million.
"To have someone include Perrysburg Schools Foundation in their estate plan, at any level, is humbling,"said Rich Jambor, PSF President. "That is a very personal decision and it means that they deeply connect with our mission, which is to support the students and teachers of Perrysburg Schools. For Mary to entrust us to continue her legacy in this way is a mission that we do not take lightly."
Along with student discovery of the arts, the campaign will focus on providing an enhanced student experience in the arts, program growth and program sustainability.
"This gift and the corresponding campaign is a milestone in the history of Perrysburg Schools," shared Thomas L. Hosler, Superintendent, Perrysburg Schools. "We have always had terrific arts programs at Perrysburg and set the bar high, and now having the flexibility to push the boundaries even further is very exciting. Through this gift, Mary is becoming the patron saint of the arts at Perrysburg. The students starting in preschool in the fall, will graduate from PHS 100 years after Mary did, yet her impact will be felt directly by them and for generations of Yellow Jackets beyond that. We are so grateful to Mary for making this happen."
To find out more about the campaign for the arts contact Jeff Abke, Perrysburg Schools Director of Development at 419-874-9131 ext. 2274 or jabke@perrysburgschools.net. Learn more here.
PSF Sponsors National Honor Society Recognition Luncheon
Each spring, the Perrysburg Schools Foundation underwrites the Annual Induction Luncheon for the National Honor Society at Perrysburg High School.
This past spring, the luncheon was held at the Hilton Garden Inn in Levis Commons, where three seniors and over 80 juniors were selected to enter the National Honors Society, having qualified by maintaining a minimum 3.7 GPA, submitting an application with an essay and three letters of recommendation. The students each received a certificate, and a gold cord for the graduation ceremony.
The Berbee-Walsh Writing Contest for PHS Students
This school year, PHS English classes held a new writing content, the Berbee-Walsh Writing Contest. The contest is sponsored by James Berbee and Karen Walsh of Madison, Wisconsin, family members of a Perrysburg High School teacher. The goal of the competition is to build enthusiasm for the craft of writing, and the rules deliberately do not require a particular style or genre of writing.
The contest is open to any PHS student. The original work must be something the student has written on his/her own time and not for a class assignment. Judging is done by a panel not associated with PHS. Award recipients are announced each May, and first prize is $1,000.