Perrysburg Schools Foundation
Current Programs & News
Contact Us
Contact us or give us a call to discover how you can help.
Impact of the Full Experience Fund
The Full Experience Fund (FEF) was established in 2019 by Perrysburg Schools Foundation with the goal of ensuring all students have a full experience. Thanks to generous donations from the community and school district employees, PSF has supported students over 156 times since the fund's creation, using nearly $14,000 to provide assistance for students whose families are facing financial hardship.
During the 2021-2022 school year, the Perrysburg Schools Social Work Department supported 143 families. Chris Harper, Assistant Director of Student Services & Well-Being, has seen first-hand the impact of FEF, and shared: "FEF provides an incredible opportunity to level the playing field so ALL students have access to opportunities across the district, like providing specific school supplies, paying athletic and extracurricular fees, purchasing yearbooks, and providing students with money to use at book fairs – all of the extras that help make the Perrysburg experience. We love the incredible impact that it has had and will continue to have. This truly opens up opportunities that some would never have."
A parent impacted by the support of FEF shared: "My husband and I are proud Perrysburg Parents. We have five children; four of which are enrolled at Perrysburg Schools. While we make do with our large family and modest income, there are some things we just need help with. Some of those things are yearbooks and dress shoes, which are required for being in choir. The most amazing assistance our family received help with was making sure three of our children could go to the week-long Show Choir Camp this past summer. Our three children had a PHENOMENAL time! They met new people, they saw old friends, but best of all, they did it together. This just goes to show the emphasis Perrysburg puts into building their community. By building a strong community, it ensures strong family bonds. In Perrysburg, everyone is family."
To receive assistance through the Full Experience Fund, a student is nominated by their school counselor or another staff member in their school who is aware of the need. 
Girls STEM Club & Prairie Project at PJHS
The Girls STEM Club at Perrysburg Junior High School (PJHS) is a collaborative effort fostering an enriched and authentic experience for students and the community. During the 2020-2021 school year, the club began discussing ways to apply STEM principles to the PJHS campus. This discussion led to the idea of creating a prairie at PJHS. The students relied on their experiences and resources from club advisors to develop a plan, market and present their plan, and learn how to pool community resources to get a well conceived plan into action.
The PJHS prairie provides an outdoor classroom environment to promote creative scientific thinking, problem solving and nature and science standards.
Jennifer Krueger, PJHS Science Teacher and Girls STEM Club Advisor shared: "We invited the community to support our mission in bringing these resources to our students and they did! Gifts made to the Perrysburg Schools Foundation by ProMedica and the Country Garden Club of Perrysburg were matched by a family foundation. These along with local resources provided by Ryan Woodring and the Toledo Zoo helped to bring the prairie to fruition."
The prairie has also been utilized for professional development for staff members at PJHS. They focused on how to use the prairie to not only engage students in scientific learning but to align lessons with the standards provided by the Ohio Department of Education and the expectations of the Perrysburg community, school district and school. The professional development included science teachers, but also teachers from other content areas who developed cross-curricular lessons.
The PJHS Science Department shared their excitement that the prairie is creating a "carbon sink" to support the longevity of the surroundings in our community, returning the land to a more natural and native landscape, giving students another outlet to make scientific discoveries, and engaging students in an authentic environment to consider future STEM-related professions. The prairie is also maintenance-free.
In addition to student learning, the prairie at PJHS is open for community use during non-school hours. We invite you to see it for yourself weekdays after 3 p.m., or during daylight hours on the weekends. The prairie is located at the PJHS campus (550 E South Boundary, Perrysburg), adjacent to I-75 near Steinecker Stadium.
Perrysburg Schools Announces Major Partnership with ProMedica to Support Innovation and Community Health
Pictured from left to right Ray Pohlman – President Perrysburg Board of Education, Jeff Abke '96 – Director of Development Perrysburg Schools, Kelly Rose Hirsh '98 – President, Perrysburg Schools Foundation, Paul Belazis – Board President, Perrysburg Heights Community Center, Dr. Kent Bishop – President, ProMedica Physicians and Chief Medical Officer, ProMedica Physicians and Acute Care, Kate Sommerfeld- President, Social Determinants of Health, ProMedica, Adrienne Bradley- Director, Community Impact, ProMedica, Lexi Pickard Marshall '07 – STEM Teacher, Perrysburg High School, Thomas L. Hosler – Superintendent, Perrysburg Schools 
October 13, 2021 –Perrysburg Schools, Perrysburg Schools Foundation and ProMedica have announced a major partnership totaling $500,000 over the next six years that will support:
Arts Programs to provide opportunities for student discovery, experience and growth within the fine and performing arts from preschool through grade 12 while also enhancing program sustainability.
STEM (Science, Technology, Engineering and Math) to allow for classroom grants and special projects within the STEM programs. A portion of this will be applied to a ProMedica Scholarship for students pursing careers in the medical sciences.
Athletics for general support of athletic programs and facilities.
The Healthy Living Program at the Perrysburg Heights Community Center to fund teaching and programming for area families.
Perrysburg High School Career Exploration to be used by the Counseling Office to enhance career exploration efforts for grades 9-12.
ProMedica will be providing rapid access to health care for the student athletics program by providing on-site athletic trainers and physicians for games and events.
"ProMedica is pleased to help fund projects that align with our organization's mission," stated Kate Sommerfeld, vice president of community relations, ProMedica. "We believe our responsibility to our community reaches beyond the care we provide in the clinical setting. We invest in overall health and well-being across our region by working with dedicated community partners like Perrysburg Schools."
"We are so grateful to ProMedica for making this investment in our students, programs and classrooms," stated Thomas L. Hosler, Superintendent. "Perrysburg Schools is proud to partner with ProMedica, and we thankfully accept this gift, which will enable us to greatly enhance the opportunities we are able to offer our students."
"The Perrysburg Schools Foundation exists to support innovation and success in the classroom." Kelly Rose Hirsh '98, President, Perrysburg Schools Foundation. "A gift like this allows us to do even more in those areas. We are very grateful to ProMedica."
Mary Cranker '35 Becomes First $1M Donor to PSF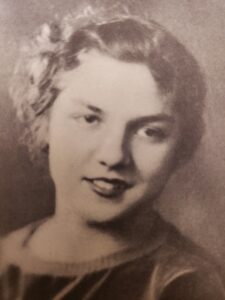 Perrysburg Schools Foundation (PSF) is honored to be the recipient of its largest gift to date from the estate of Ms. Mary Cranker, Perrysburg High School Class of 1935. While the exact size of the gift is still being finalized through the estate, the anticipated gift of more than $1 million will create an endowed fund that will be used for early introduction to the arts for Perrysburg elementary students.
Mary Cranker passed away in October of 2017 and spent her entire 99-year life in Perrysburg. She was an avid supporter of the arts and quite the artist herself. She had a great appreciation for poetry, music and fine arts.
Mary worked at Owens-Illinois as an executive secretary until she retired in 1975. While at Perrysburg High School she was active in student government, the National Honor Society, the Somethin'student newspaper, science club, Latin club and dramatic club.
"While the relationship between Perrysburg Schools and Mary began when she started school back in the early 1920's, we had the chance to introduce Mary to the efforts of the Perrysburg Schools Foundation and the opportunity to support the arts here in Perrysburg a few years ago. It was a pleasure to get to know her and learn about her passion for doing good in our community,"said Jeff Abke, Director of Development for Perrysburg Schools and the Perrysburg Schools Foundation. "It is neat to think about how her generosity will be felt throughout the entire community."
This gift, made in memory of Mary's maternal grandfather, Edwin H. Simmons, will be part of a comprehensive fundraising campaign for the arts at Perrysburg Schools, from preschool through grade 12. It will include gifts made to the arts booster groups, the Perrysburg Schools Foundation and the school district. The goal is to raise $3.5 million in private gifts prior to December 31, 2021, and will be formally launched January 16, 2019 at an event for supporters. Mary's gift brings the total raised to date to nearly $2 million.
"To have someone include Perrysburg Schools Foundation in their estate plan, at any level, is humbling,"said Rich Jambor, PSF President. "That is a very personal decision and it means that they deeply connect with our mission, which is to support the students and teachers of Perrysburg Schools. For Mary to entrust us to continue her legacy in this way is a mission that we do not take lightly."
Along with student discovery of the arts, the campaign will focus on providing an enhanced student experience in the arts, program growth and program sustainability.
"This gift and the corresponding campaign is a milestone in the history of Perrysburg Schools," shared Thomas L. Hosler, Superintendent, Perrysburg Schools. "We have always had terrific arts programs at Perrysburg and set the bar high, and now having the flexibility to push the boundaries even further is very exciting. Through this gift, Mary is becoming the patron saint of the arts at Perrysburg. The students starting in preschool in the fall, will graduate from PHS 100 years after Mary did, yet her impact will be felt directly by them and for generations of Yellow Jackets beyond that. We are so grateful to Mary for making this happen."
To find out more about the campaign for the arts contact Jeff Abke, Perrysburg Schools Director of Development at 419-874-9131 ext. 2274 or jabke@perrysburgschools.net. Learn more here.
PSF Sponsors National Honor Society Recognition Luncheon
Each spring, the Perrysburg Schools Foundation underwrites the Annual Induction Luncheon for the National Honor Society at Perrysburg High School.
This past spring, the luncheon was held at the Hilton Garden Inn in Levis Commons, where three seniors and over 80 juniors were selected to enter the National Honors Society, having qualified by maintaining a minimum 3.7 GPA, submitting an application with an essay and three letters of recommendation. The students each received a certificate, and a gold cord for the graduation ceremony.
The Berbee-Walsh Writing Contest for PHS Students
This school year, PHS English classes held a new writing content, the Berbee-Walsh Writing Contest. The contest is sponsored by James Berbee and Karen Walsh of Madison, Wisconsin, family members of a Perrysburg High School teacher. The goal of the competition is to build enthusiasm for the craft of writing, and the rules deliberately do not require a particular style or genre of writing.
The contest is open to any PHS student. The original work must be something the student has written on his/her own time and not for a class assignment. Judging is done by a panel not associated with PHS. Award recipients are announced each May, and first prize is $1,000.